As a group the 145s come from a variety of backgrounds. The band began life as a blues band at the UCL students union in 2008 but carried on post university and is still going today.
We've seen members come and go but 3 of the original founders remain, and our current group is the strongest line up we've had. Read on to find out about the members of the band and what each individual will bring to your event.
---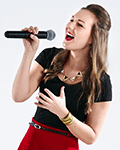 Natalie Buller - Lead & backing vocals
Natalie is the leading lady of The 145s & the newest addition to the band having joined in 2014, bringing her incredible voice with her, as well as a great personality to help engage the crowd. Natalie sings lead for many of our pop, funk and soul tunes, as well as dueting with the guys & and providing backing vocals in most other numbers.
---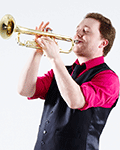 Charlie Clinton - Trumpet, Harmonica and lead & backing vocals
Charlie is the founder & manager of the band, and splits his time on stage between vocals and the trumpet, with a dash of harmonica. As a performer, he takes much of his inspiration from The Blues Brothers & The Commitments (minus some of the more extreme dance moves of Elwood Blues). As the manager he's very focused on delivering great customer service and will work with you to tailor a package to suit your needs and budget.
---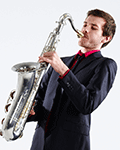 Jon Chandler - Saxophones & lead rapper
Jon is the second of the remaining founders and our resident sax player - pairing with Charlie as a two piece horn section for many of the soul & pop tunes, and adding an extra dimension to the blues & rock 'n' roll tunes with his improvised fills & solos. He'll also grab a vocal mic for a bit of Rappers Delight. As well as his alto, tenor & soprano saxophones, Jon has recently acquired a baritone sax named Bertha.
---
Chris Moore - Guitar & lead vocals
Chris is the third of the remaining founding members, and he brings the rock and the blues to The 145s. He takes inspiration from guitarists of the 60s and 70s, think Eric Clapton, Jimi Hendrix and Albert King as well as newer players like Gary Moore and Joe Bonamassa. Chris was also responsible for suggesting the name of the band, and maintains that the suggestion had nothing to do with his flat number being "145".
---
Timothy Muller - Keyboard, and lead & backing vocals
As well as being the band's keyboard player, bass backing vocalist of the group, and occasional lead singer, Timothy is one of our "musical directors" - working on arrangements and leading our vocal harmonising. Having studied music at Trinity College, he's now working as a music therapist.
---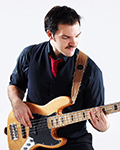 Alex Karski - Bass, and lead & backing vocals
Alex is our resident bassist - but rather than spending his time lurking at the back he prefers being up front and centre and adding his energy to the front line. Alex brings his suprisingly high male register to the pool of vocals we have to play with, and you can expect to hear him singing Beatles, Otis Redding and Little Richard numbers. He's also partial to a bit of improvised creativity with the basslines and the occasional funky bass solo.
---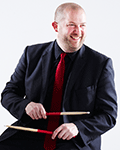 Edward Potter - Drums, and lead & backing vocals
Ed is that supposedly rare creature - a drummer who is also a fantastic musician, having studied music at Uni. As well as keeping the rest of the band in check with his tight drum beats, he brings his particularly smooth vocals to many of our swing numbers, and splits musical director duties with Tim. Ed is responsible for our unique samba arrangement of Kylie's "I can't get you out of my head".